NA · 18-Feb-05 · UPERC · 0.96 MB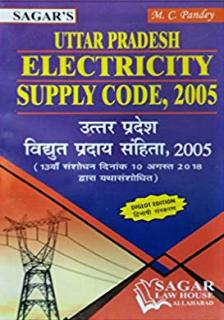 UP Electricity Regulatory Commission was assigned with functions -

To regulate the distribution, supply, utilization of electricity
To regulate the working of licensees
To set the standards of services for the consumers
To set the standards for the electricity industry in the State.
under UP Electricity Reforms Act, 1999
Three distribution licensees called UPPCL, KESCO, and NPCL was granted as distribution licensee in Uttar Pradesh. In pursuance to the Commission's directions, Uttar Pradesh Power Corporation Limited (UPPCL) had submitted a draft distribution code which was approved by the Commission and was made applicable in areas served by UPPCL, Kanpur Electricity Supply Company Limited ("KESCO") and the Noida Power Company Limited ("NPCL") with effect from 1st July 2002. It was known as Electricity Supply Code-2002.
Later Electricity Act, 2003 (don't get confused in Electricity Act and Supply Code) was made applicable on 9th June 2003. So, Supply Code needs to change as per the new Act. The Commission, thus, undertook
the exercise of specifying a Draft Electricity Supply Code, which was consistent with the Electricity Act, 2003 and was in line with the mandate set out in the aforesaid Section. In order to integrate various issues related to electricity supply business with harmonious construction, the Commission also decided to cover other supply related regulations envisaged under the Electricity Act, 2003 within the ambit of Draft Supply Code, 2004.
The Draft Electricity Supply Code 2004, as a condition of previous publication and otherwise also to ensure extensive participation and transparency in the process, was put through an extensive process of consultation involving all stakeholders. The copies of the draft were sent to UPPCL, all Distribution Licensees, the State Government, Members of the State Advisory Committee and was also placed on the Commission's website for comments. Comments on the Draft Code were also invited through public notices in newspapers having wide circulation and copies of the Draft Code were made available on request to the public. A public hearing
was also conducted on May 13, 2004 to take into account the objections and comments received from stakeholders and the public at large. Year "2004" is being replaced by "2005" to denote the year of issue.
Finally, Electricity Supply Code - 2005 came in picture on 18-Feb-2005.
Tag: #SupplyCode
Leave a Comment

You are not logged in |
Login