12-Sep-19 · UPERC · 0.65 MB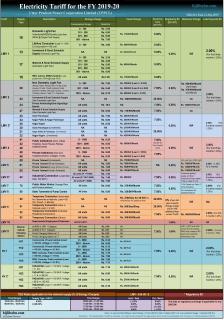 Highlights of Electricity Tariff of FY-2019-20
New Category called

LMV-11

is introduced for Electric Vehicle Charging Station.
For all DISCOMs, the regulatory surcharge of 4.8% has been removed.
The Uttar Pradesh Electricity Regulatory Commission (UPERC) on Tuesday approved up to 12% increase in power tariff for various consumer categories.
The hike for the domestic consumer is 10-12% while industrial (heavy) consumer category has been given a tariff hike of 6-10%. For agricultural consumers, the increase is of 9%.
Fixed Charges has been introduced for Temporary connection also.
It will be Effective from 12-Sept-2019.
Download one-pager tariff summary

Tag: #Tariff #Rate #BijliBill #BijliDar
Leave a Comment

You are not logged in |
Login