NA · 02-Feb-19 · UPERC · 19.35 MB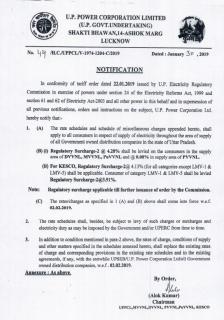 Highlights of Electricity Tariff of FY-2018-19
There are no changes in Electricity Rate
A rebate @5% on RATE shall be given to

Rural

PTW Consumer(LMV-5), in case payment is made on or before due date. Earlier, it was 1% rebate only as applicable to other categories
Non Commercial places occupied by religious persons of any religion, are included in LMV-1 (Domestic) Category, for a maximum load up to 5 kW, subject to the condition that such non-commercial place shall have a valid registration /recognition from a charitable trust. More Info
Registered Gaushala for load upto 5 BHP having separate light and fan connection with the condition that such Gaushala (Cow-Shed) shall not be used for commercial purpose, is included in LMV-5 category.
In case Rural Unmetered consumer shifts from Unmetered to Metered, he shall be entitled to get rebate of 10% on RATE which shall be applicable from Date of Installation to END of FY 2018-19. Though, it is not a new provision, but earlier date was limited to FY 2017-18.
It will be Effective from 02-Feb-2019.
Tag: #Rate2019 #BijliRate
Leave a Comment

You are not logged in |
Login