1845/24-P-3-2012 · 13-Sep-12 · Principal secretary · 0.09 MB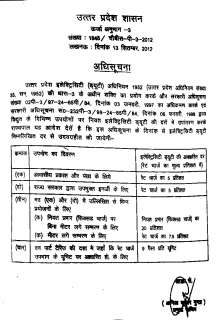 Electricity duty is defined as per the policy of the central government with taxes going to the state government. This differs from state to state. The tax is also different for different sectors and industries.
On 13-Sep-2012, the UP government announced the new electricity duty (ED) rate for the consumers. The last ED rate was announced on 03-Jan-1997.
There is a lot of confusion among UPPCL employees regarding ED of STW (state tubewell) connection. Many employees are charging @20% as it is usually an unmetered connection. But, it should be charged @5% as suggested in this order.
Rate of the Electricity Duty:
Domestic Light Fan consumer - 5% of EC+FC
State Govt owned - 5% EC+FC
Other (Except 1 & 2) Metered consumer - 7.5% of EC+FC
Other (Except 1 & 2) Unmetered consumer - 20% of FC
For one tariff consumer - 9 paise/unit
UPPCL was charging 20% ED for unmetered domestic consumers. But, later it was corrected to 5% as it is mentioned that 20% ED is applicable for those unmetered consumer which is not mentioned in point no. 1 & 2.
---
EC: Energy charges, FC: Fixed Charges
Tag: #Ed #ElectricityDuty #EdForGovt.Connection
Leave a Comment

You are not logged in |
Login