279/CE/CU-2/ED · 08-Mar-18 · MD UPPCL · 2.19 MB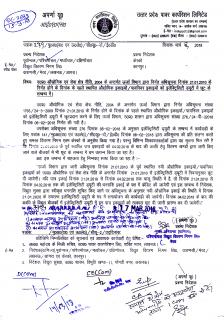 In an investor-friendly move and a major relief for the industry, particularly power-intensive units, the Uttar Pradesh government has exempted all the new and pioneer industrial units from electricity duty (ED). This order is regarding clarification of ED rebate for the industrial units running back from 2010.
Now, it is very clear that all industrial units running back since 2010, will also get the benefit from 2010. The only condition is:
The unit should be in running condition from  21-Jan-2010 to 04-Feb-2018.
ED exemption will continue from 04-Feb-2018 only. But ED amount from 21-Jan-2010 to 04-Feb-2018 will get verified from electrical safety department and will be adjusted after 21-Jan-2020 in terms of ED only
The energy department has notified ED exemption to all the new industrial units for a period of 10 years. However, the period for relief in ED for all pioneer units is 15 years.
Tag: #EdRebate #EdExemption
Leave a Comment

You are not logged in |
Login