276/24-P-3/2018 · 05-Feb-18 · Principal secretary · 3.5 MB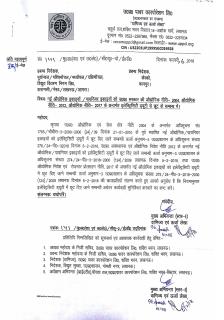 Electricity duty is defined as per the policy of the central government with taxes going to the state government. This differs from state to state. The tax is also different for different sectors and industries. The Uttar Pradesh government has exempted all the new and pioneer industrial units from electricity duty (ED). This move is considered as an investor-friendly environment in Uttar Pradesh and shows the will of the government to promote industrial and economic development.
The energy department has notified ED exemption to all the new industrial units for a period of 10 years. However, the period for relief in ED for all pioneer units is 15 years.
This order also includes the Certificate for claims and certificates for refunds.
Instrucution to implement this ED exemption to all the DISCOMS
Tag: #EdRebate #EdExemption
Leave a Comment

You are not logged in |
Login