105/CE(com)/CU-2/OTS/2019-20 · 10-Nov-19 · MD UPPCL · 1.33 MB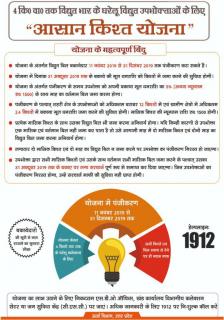 This time Hon. Energy Minister has announced Aasan kisht yojna for the defaulter consumers. This is basically OTS (one-time settlement) scheme/ Surcharge waiver scheme with the installment facility on electricity dues.

Highlights of the scheme:
Both rural and urban, domestic (LMV1) consumers of sanction load up to 4 KW are eligible
100% waiver of surcharge till 31-10-2019
Registration Fee:  Rs. 1500/-or 5% of Actual Bill (without surcharge), higher one among them
Maximum installment period will be 12 months for urban and 24 months for rural consumers.
Installment amount can't be less than Rs. 1500/- plus current monthly bill.
Once missed the installment, could pay 2 month's installment together. But registration will be canceled if failed to pay even 2 month's installment.
Once registration canceled, a proportional surcharge will be charged and the registration amount will be seized.
Consumers may pay in a single time to avail surcharge waiver.
Obviously, Consumers having dues less than Rs. 3000/- should pay in a single time to get a surcharge waiver benefit as minimum installment and the minimum registration fee is Rs. 1500/-.
Registration period of Aasan kisht yojna
Bill revision not required:
11-Nov-2019 to 31-Dec-2019
Bill Revision Required:
11-Nov-2019 to 07-Jan-2020 (Needs to opt as

Bill Revision Required

before 31-12-2019 and must get registered wihin 7 days of bill revision
Process Flow for Installment Scheme:
Tag: #Ots #SurchargeWaiver #100%Rebate #AasanKishtYojna #OneTimeSettlement
Leave a Comment

You are not logged in |
Login