ACT NO. 36 OF 2003 · 26-May-03 · Parliament · 0.41 MB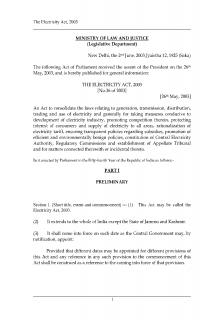 An act to consolidate the laws relating to generation, transmission, distribution, trading and use of electricity for taking measures conducive to development of electricity industry, promoting competition therein, protecting interest of consumers and supply of electricity to all areas, rationalisation of electricity tariff, ensuring transparent policies regarding subsidies, promotion of efficient and environmentally benign policies, constitution of Central Electricity Authority Regulatory Commissions and establishments of Appellate Tribunal for matters therewith or incident thereto.
The act may be called The Electricity Act-2003. It extends to the whole of India except the State of Jammu and Kashmir. It came into effect on 10-jun-2003.
Before the Electricity Act, 2003, the Indian Electricity sector was guided by the Indian Electricity Act, 1910 and The Electricity (Supply) Act, 1948 and the Electricity Regulatory Commission Act, 1998. The generation, distribution, and transmission were carried out mainly by the State Electricity Boards in various States. With effect from 10 June, 2003 India has adopted new legislation called the Electricity Act 2003, to replace some age-old existing legislation operating in the country. The new act consolidates the position for existing laws and aims to provide for measures conducive to the development of the electricity industry in the country. The act has attempted to address certain issues that have slowed down the reform process in the country and consequently has generated new hopes for the electricity industry. This paper reviews the Electricity Act 2003, to highlight how the new features are different from the existing legal provisions and whether these measures have an economic rationale.
Tag: #Theft #Assessment #Act
Leave a Comment

You are not logged in |
Login