13/मु0अ0 (वाणिज्य ) /सी0 यु0 -दो /ओ0 टी0 एस0 /2019 -20 /(पी0 टी0 डब्लू0) · 31-Jan-20 · MD UPPCL · 1.59 MB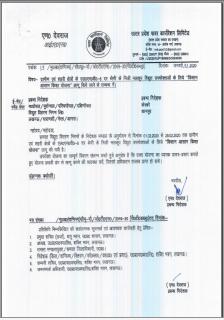 Surcharge waiver scheme for Private Tubewell (LMV-5) consumers has been launched by the electricity department of Uttar Pradesh with the name of Kisan Aasan Kist Yojna.
Key points:
All Rural and Urban Private Tubewell consumers are eligible.
Registration Date : 01-Feb-2020 to 29-Feb-2020
Registration fee : 1500/- or 5% of actual bill amount excluding surcharge.
Installment : Maximum 6 installement.
Court Case, Disconnected Consumer, FIR Cases, Section 5 Issued case will also get surcharge waiver.
Tag: #Ots-2019 #Ptw
Leave a Comment

You are not logged in |
Login