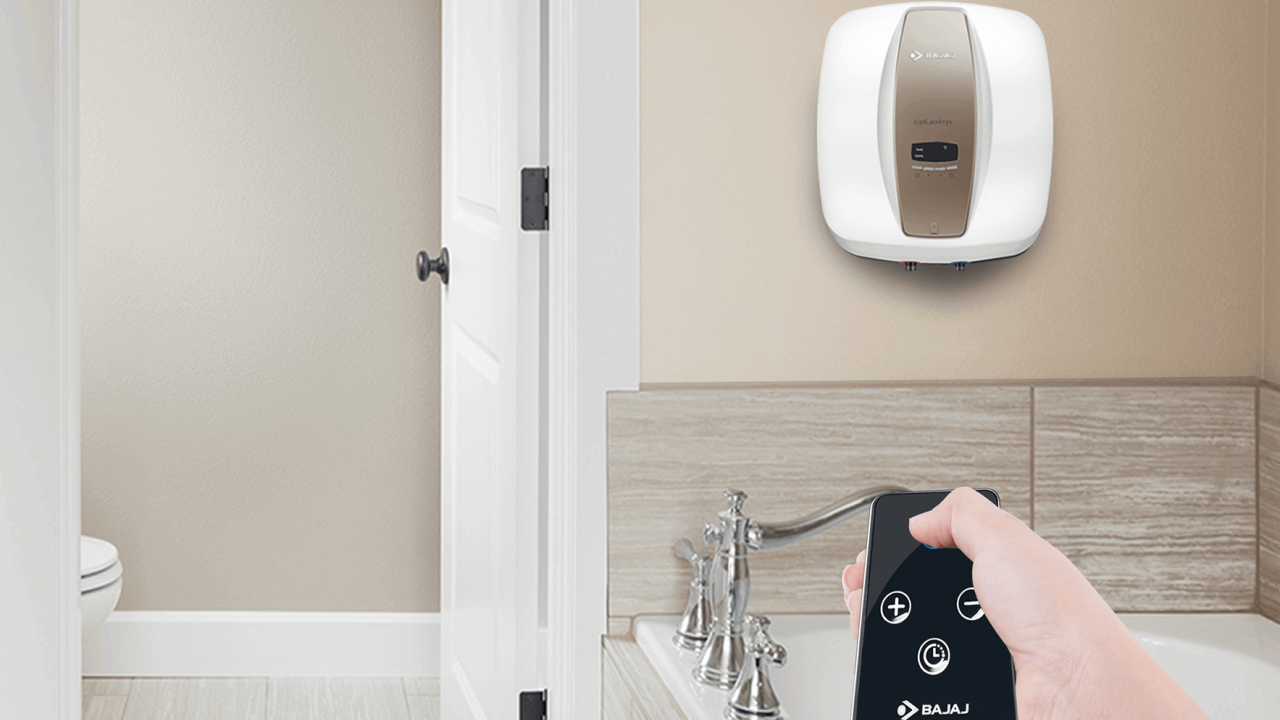 Water heater became the most essential home appliances these days, especially in winter. Because It is extremely challenging to have morning showers with cold water. So, if you are planning to purchase a new one and confused about how to select the best water heater in India, then this is the right article is going to help you. Sometimes, we go for a lesser-known brand as it looks cheaper. But we should avoid it as if safety is concerned. We should prefer the geyser which at least discloses material used to make its inner tank.
While purchasing a water heater, we need to consider below important points ...
Wattage - it relates to the power consumed by a geyser. A very simple rule is "higher the wattage, water gets heated more quickly".Typically, It ranges from 1500 W to 3000 W.
Material Used - Typically, Copper, Stainless steel, Thermoplastic are used as a storage tank. Stainless steel is better in insulation and less maintenance is required. Corrosion protection coatings also play an important role.
Capacity - Besides the instant water heater, a storage water heater has a capacity range of 6 to 35 litres. For kitchen use 6-8 litres capacity is sufficient. For bucket bath 8-10 litres and for shower bath 15 litres capacity is enough. Now, depending on the number of family members, like all 2-3 persons want to take bath continuously, may go for higher capacity.
Technology and safety arrangements - To control the water temperature, a thermostat is used. Typically, temperature adjustment is being done through a knob. Some high-end models do have a digital meter to display accurate water temperature and maintain the temperature automatically. An extra safety layer of a safety valve is also required which controls the pressure and temperature of the water heater and prevents it from overheating. 
BEE Rating - The Bureau of Energy Efficiency is an agency of the Government of India, under the Ministry of Power. They rate the geyser on the basis on "standing loss" or "heat/energy loss".
Best Water Heater – Geysers Reviews in India
Following are the top 10 water heater/geyser with their pros and cons so that you can buy a perfect one regardless of size, budget, storage, energy efficiency.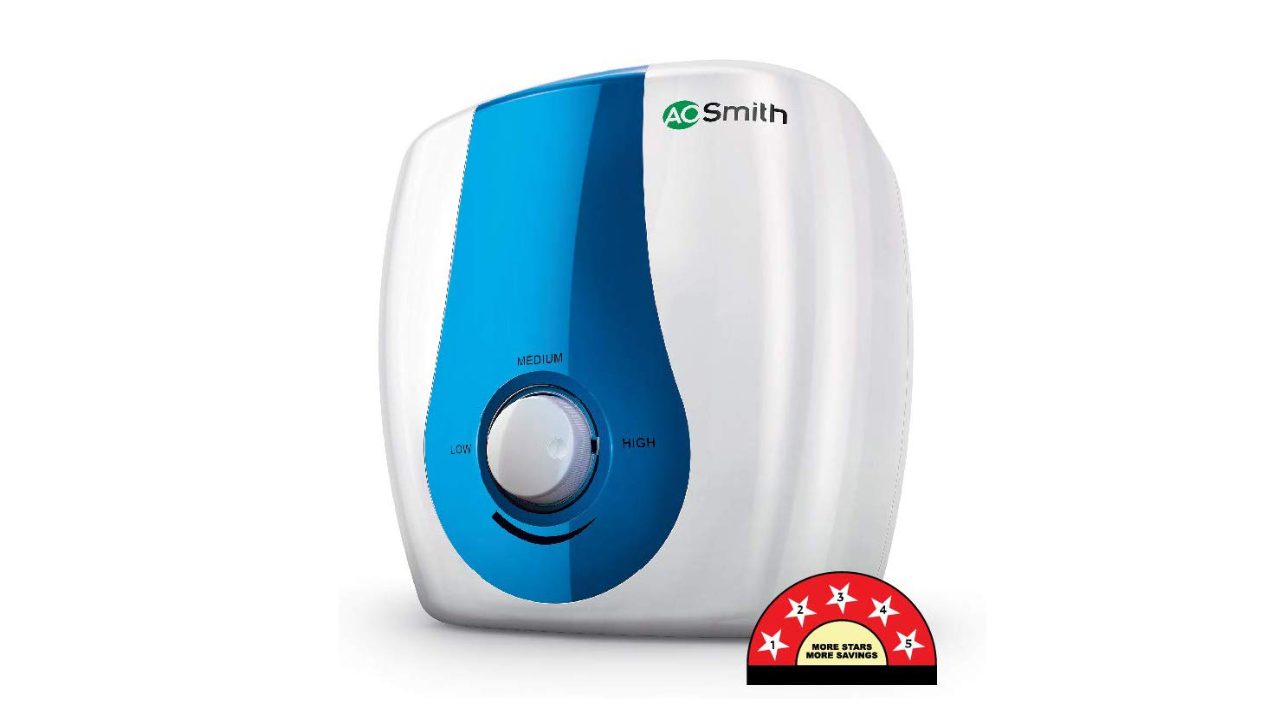 Having a capacity of 15 ltr this best water heater in India can give a trendy look to your bathroom. To protect the storage tank of the heater, the company provides a glass-lined inside coating on the tank which ensures its more extended durability. You don't have to worry about its quality because one of the advanced water heater factories in India manufactured this product. 
To provide extra efficiency and protection, there is an anode rod installed in the tank. Blue diamond glass layering and cathodic action enable it to stay corrosion-free. Its safety valves shut it off automatically when the water gets boiled or reached the temperature you were desired for. It weighs just 10.4 kg which is not too much after looking its extra features.
In cases when water gets heated more than usual, then you have nothing to worry its live line, and the neutral line automatically cuts the line for the safety purpose.
Advantages:
Comes with a 7-year warranty for the inner tank
4-year extended warranty on the glass coated heating element
Energy efficient: BEE 5 star
Customizable temperature setting and thermal cutout
15-litre storage capacity
Low maintenance
Super silent
Disadvantages:
No free installation
Bad after-sales service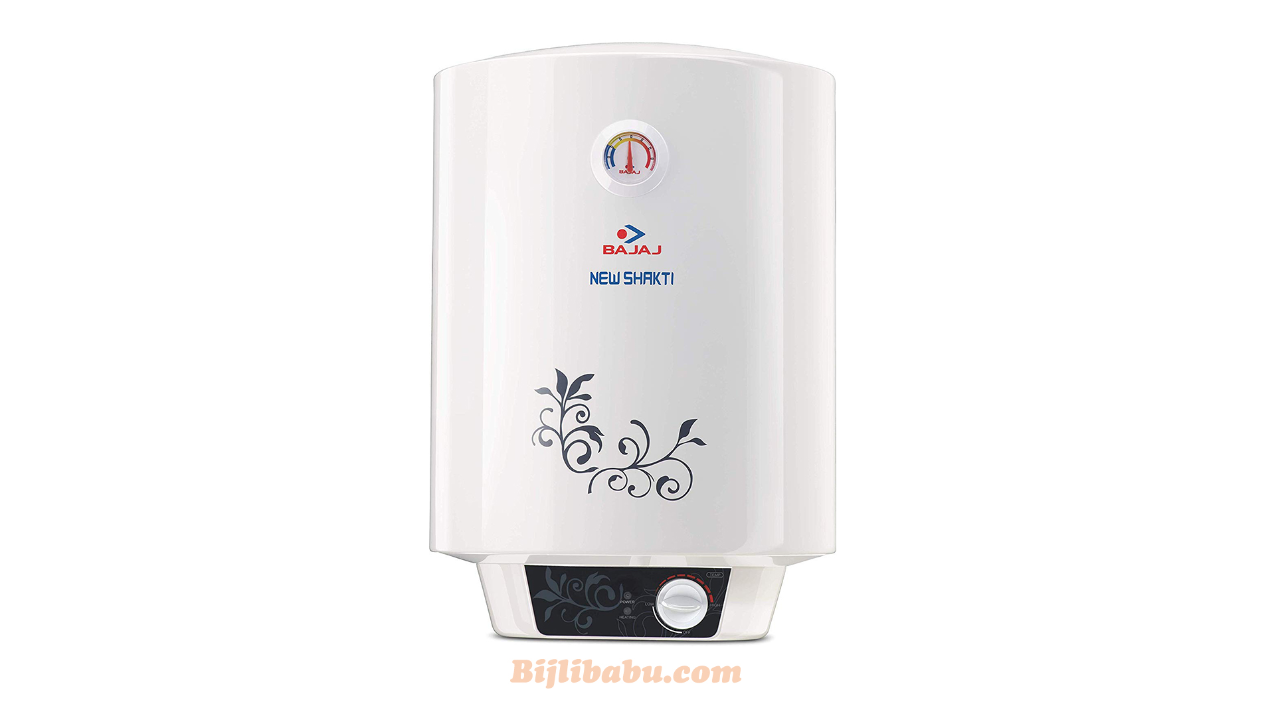 The name is Bajaj is enough for concluding about the manufacturing quality of the product because for years Bajaj appliances are one of the best ones can choose for their use. Same applies with this Bajaj New Shakti GL 15-Litre Vertical Storage Water Heater.
Packed with all modern safety elements, this is one of the best water heaters in the market. Its small size and ample storage make it one of its kinds, and at the same time, this is one of the 5-star rating geysers in India. This can keep water boiled for a long duration even after switching off the geyser.
This water heater is equipped with a multifunctional safety valve and a cable which is fire-retardant. You don't have to worry about the electric bill because this small-sized heater is designed to give enough heating in lower consumption energy. Its water tank has anti-corrosion property which can save your future of amount of repairing other low-quality geyser tanks. This holds the same quality which is of Bajaj Shakti 25-Liter Water Heater if we put the storage aside.
Advantages:
Large storage capacity
4-star BEE rating
Can withstand high water pressure
Retains heat
Comes with a 2-year warranty on the overall product and 5-year warranty on the inner tank
Heats up quickly
Disadvantages:
Pipes and miscellaneous installation accessories do not come with the package.
The temperature monitor is not accurate.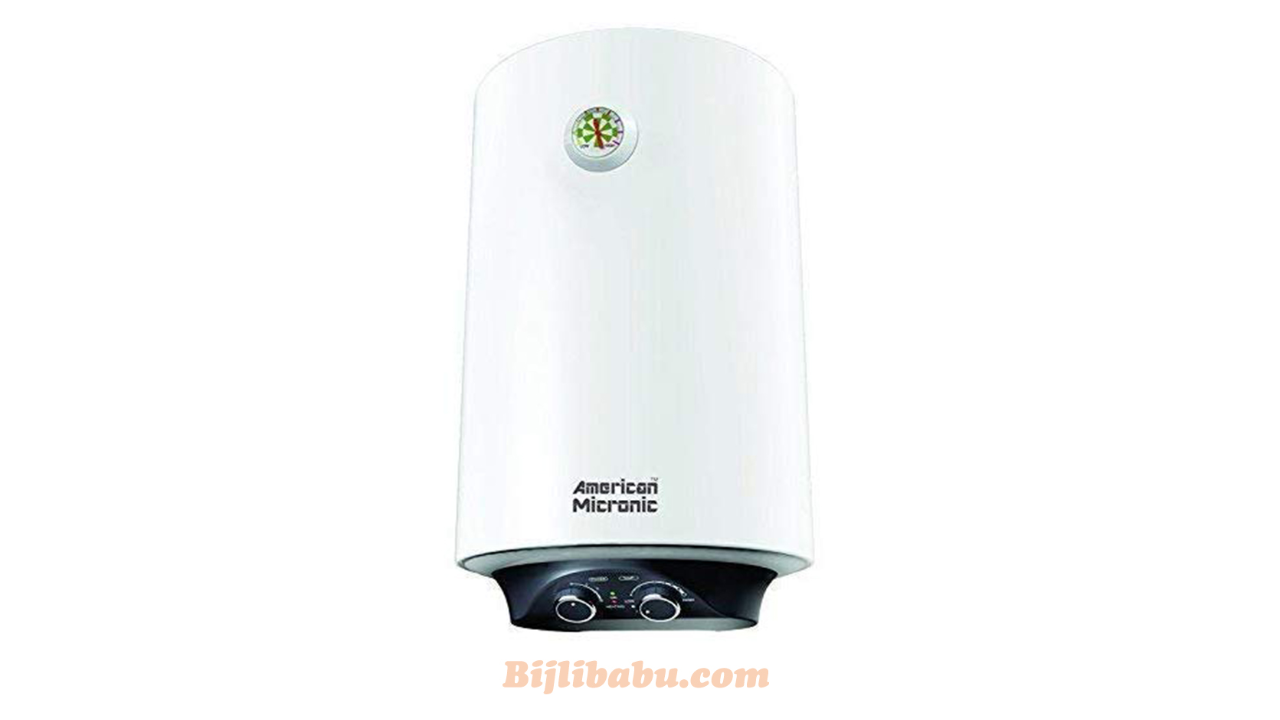 Designed by the American Micronic Instruments, Inc., USA, this water heater is durable, reliable and efficient. Although it lacks a stylish design, the water heater comes with a pack of safety and practical features that are suitable for an Indian environment. Its multiple safety systems provide easy handling and carefree environment. It comes with features such as resistance against overheating/ dry heating and immense water pressure. With 25 litres of capacity and 5star BEE rating, this one rightfully takes the third spot.
The magnesium coated anode rod works towards preventing leakages and metal corrosions. The three pin fire retardant cable also provides a safe environment for the children to be around. Auto cutout, thermostat and pressure discharge valve are the other few essential features American Micronic offers.
The inner tank is coated with titanium-enamel glass to ensure its longevity by preventing corrosion. The 2mm thick steel inner tank can handle high water pressure (8 Bar) and thus suitable for high rise buildings. The inner tank also comes with a 42mm PUF insulation which helps in reducing energy consumption and heat retention. In addition to this, the sus316l heating element ensures the long life of the product.
Advantages:
Impressive safety systems
Customizable temperature and power settings
Low maintenance
Retains heat for up to 24 hours
Energy efficient: BEE 5 star
Disadvantages:
Takes a bit longer to heat up initially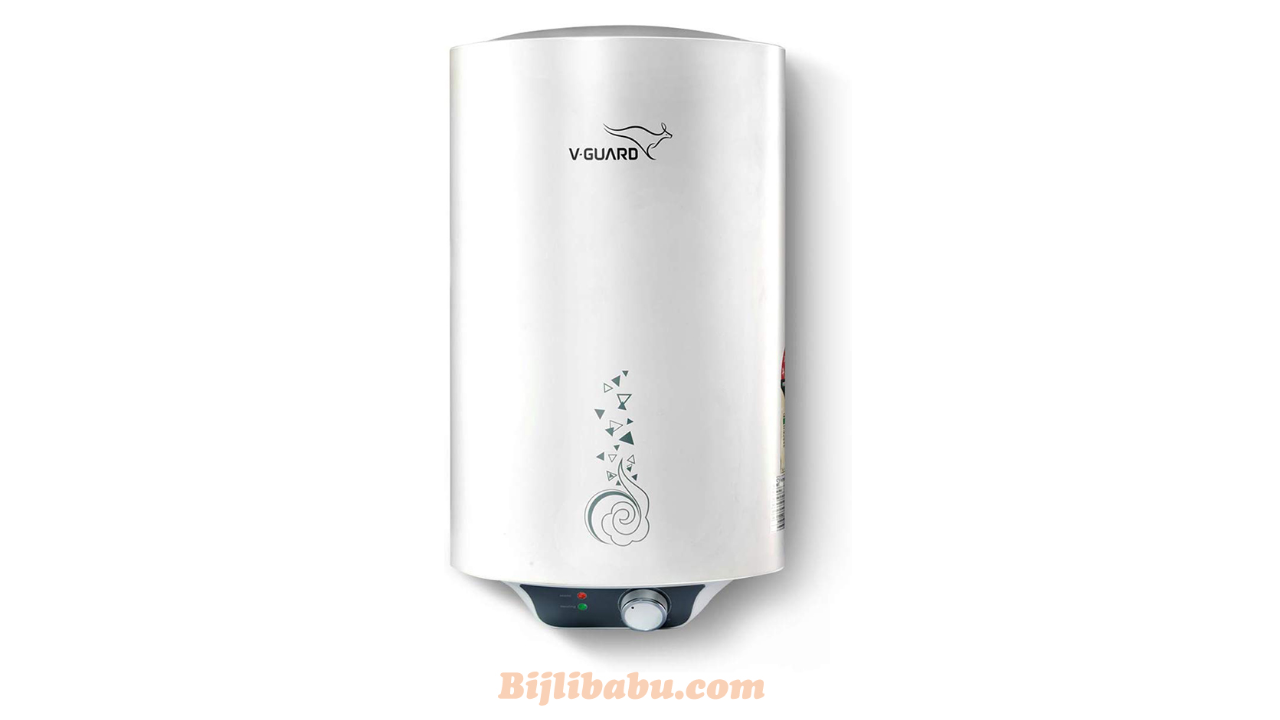 v-guardgeyserThe most trusted brand in India when it comes to electrical appliances, V-guard brings an elegant and high-performance water heater to the market. The vertical water heater holds a 15-litre large tank made up of high-quality material.
V-guard Victo comes with a four-layered safety system that includes a hi-tech thermostat and thermal cut off feature that ensures the right temperature regulation. The multifunctional safety valve provides optimum pressure control and protects it from leakages and corrosion.
The cylindrical body of the water heater is made up of high-quality steel and is coated with an anti-corrosive powder that adds to its longevity. The inner tank is built using thick gauge steel and lined with superior glass coating via single-line welding technology. The tank has a PUF insulation that retains heat and minimizes any such loss thus saving energy. The water heater comes with a BEE 5 star rating.
Advantages:
Energy efficient: BEE 5 star
Comes with a 2 -year warranty
Accessory kit included
Low maintenance
Longer shelf-life
Disadvantages:
Not good for high pressure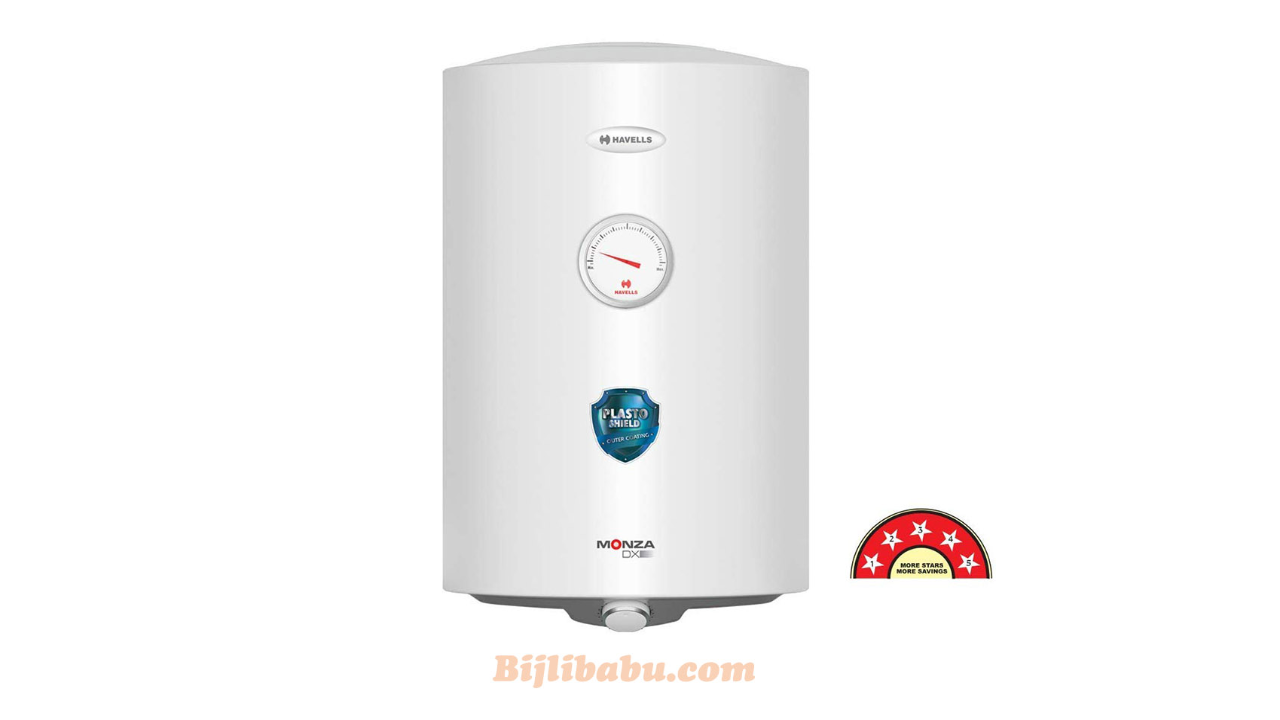 Coming from a major power distribution equipment manufacturing company, this 15-litre is the best choice for a guest bedroom. The ergonomic design makes it impossible for anyone to not notice the water heater. Havells is known for high-efficiency products and this EC 5s water heater lives up to the expectations.
The inner tank is made up of superior quality cold-rolled steel that is lined with Fero Glass technology using the single line weld design. Additionally, the inner tank is PUF insulated allowing water to retain heat even after the power supply is cut off. The Incoloy heating element and the heavy-duty anode rod work efficiently towards preventing corrosion in the tank.
The water heater is a BEE star rated which assures the efficiency of the device as well as its longevity. Safety systems are at par with Government standards. The Havells water heater provides high-level protection of electrical parts from water. The water tubes in the heater work with a whirl flow technology providing uninterrupted water supply with the right pressure. The adjustable temperature knob in the front panel is accompanied by digital indicators.
Advantages:
Energy efficient: BEE 5 star
Shock resistant electrical units
Adjustable temperature settings
Durable fero glass technology
Comes with a prolonged warranty period
Auto cut off feature
Heats up quickly
Disadvantages: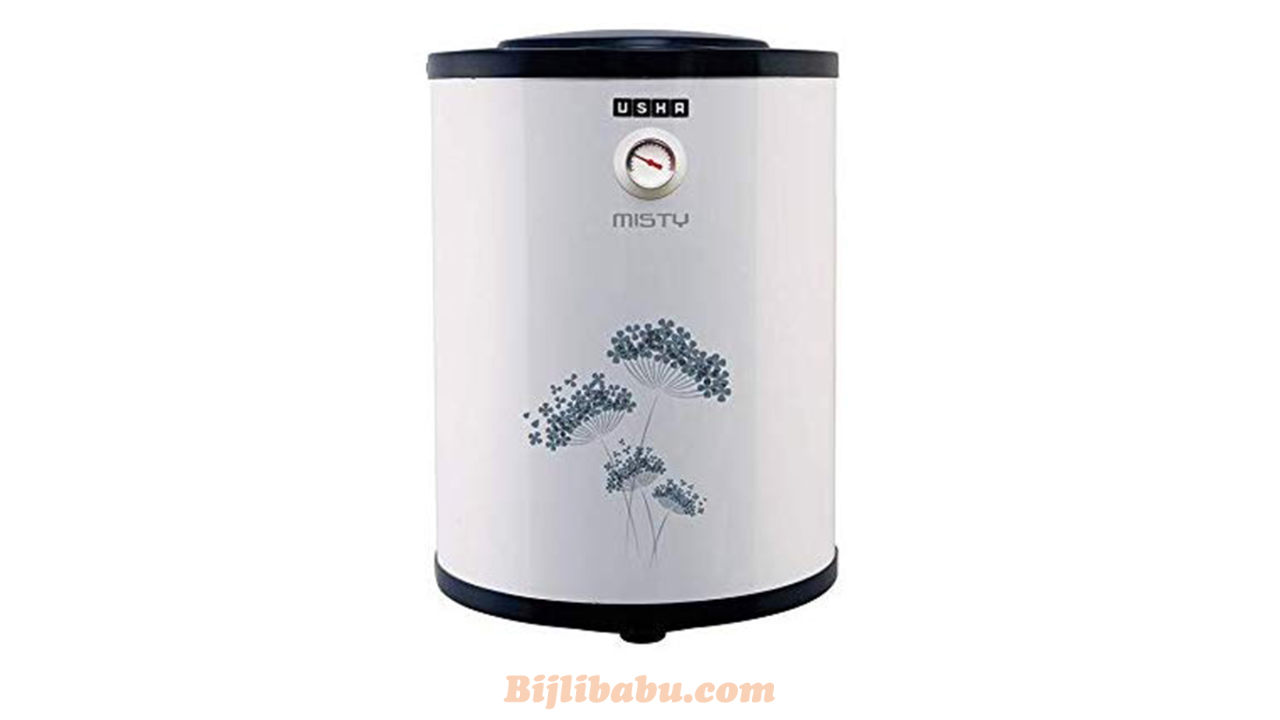 The Misty range of water heaters by USHA combines efficiency and safety to its beautiful build to give you a reliable geyser. The Misty water heater is known for its safety systems and utility.
This classic package of performance, safety and energy-saving feature make it an ideal choice for your home. For optimum protection, USHA water heaters are equipped with features that work towards preventing overheating and dry heating, temperature and pressure control and prevention of electrical leakages.
The single weld lining of the inner tank reduces unwanted leakages ensuring extra safety. The heater is equipped to high pressure (8 bar) making it ideal for multistoried buildings. The whirl flow technology in the water pipes ensures heaters efficient performance. IPX4 protects the electrical units from water splashes and leakages. The high precision thermostat works wonderfully in controlling the temperature and initiating the auto shut-off. The multifunctional safety valve controls the water pressure and prevents backflow of water.
The inner tank is made up of high-quality steel and coated with sapphire powder and glass lining. Adding to this, the anode rod is coated with high magnesium concentrate to protect the tank against corrosion and electrochemical reactions. Apart from this, the polyurethane foam insulation helps in retaining heat within the tank, thus saving energy. The Incoloy 800 heating element with enamel coating heats up water pretty quickly reducing the wait time.
Advantages:
Energy efficient: BEE 5 star
Multi safety features
Comes with a 2-year product warranty; 7-year inner tank warranty
Heats up quickly
Retains heat for prolonged hours
Disadvantages:
Installation and customer service needs improving
Low-temperature mode is not effective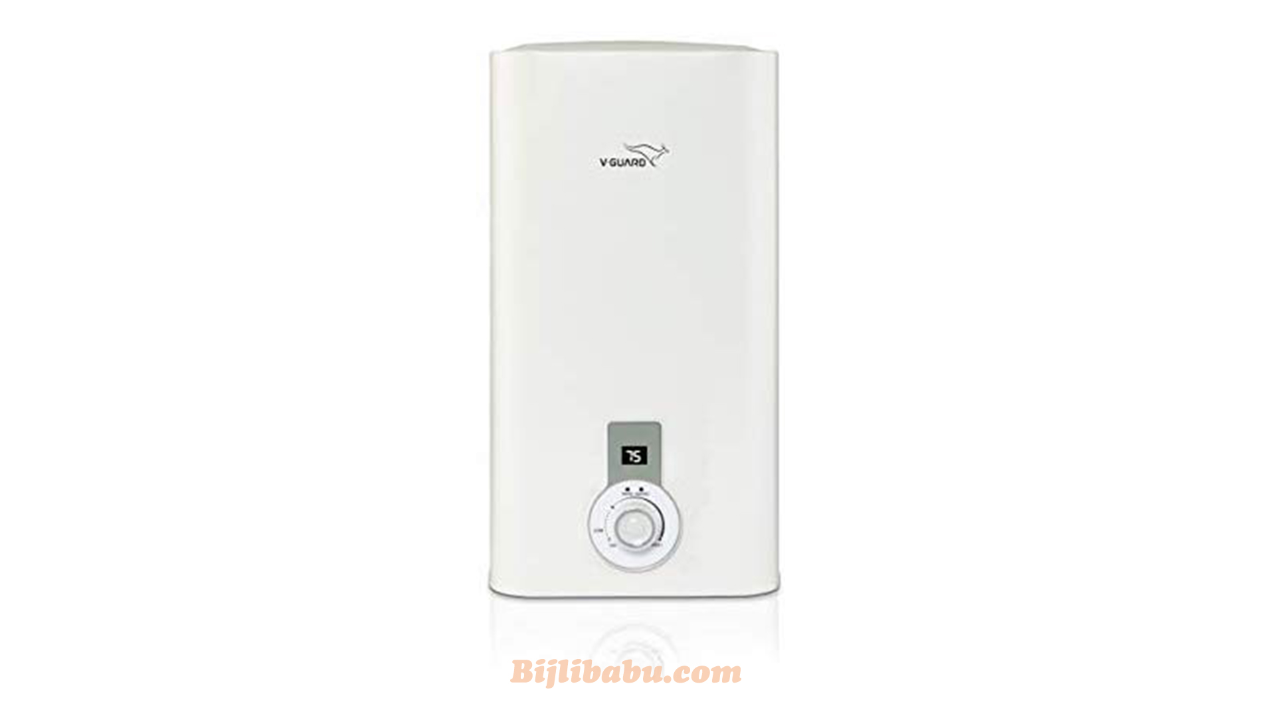 V-guard Victo Plus is an amped-up version of the Victo water heater both by design and features. Its ergonomic design and revised safety, utility and performance are ideal for a modern household. It basically provides you with a hassle-free, smooth sailing performance.
The heater has a seven-segment digital display that indicates the temperature within the tank. The stylish jog dial makes it easier for you to control the thermostat. Coming back to the internal components, the inner tank is also coated with superior glass using single line weld technology to prevent corrosion. The PUF insulation maintains the high temperature for a longer period of time even when the power supply is shut. The sacrificial magnesium coated anode rod also works towards preventing corrosions and other electrochemical reactions within the tank. The smart thermostat also comes with an auto shut off feature. Lastly, the multifunctional safety valve ensures the right water pressure is maintained.
Moving on from the cylindrical shape of the victo water heater, victo plus provides a slight variation in the shape. The digital panel with the control dial adds to its design making it one of the most sophisticated designs amongst the water heaters. The inner tank is made up of high-quality steel coated with anti-corrosive powder to extend the product's longevity. The four-layered safety systems are also impressive providing you with a safe and healthy environment.
Advantages:
Energy efficient: BEE 5 star
Ergonomic design
Digital display
Exceptional safety features
Heat retention capacity is excellent
Disadvantages:
Heat indicator is not bright enough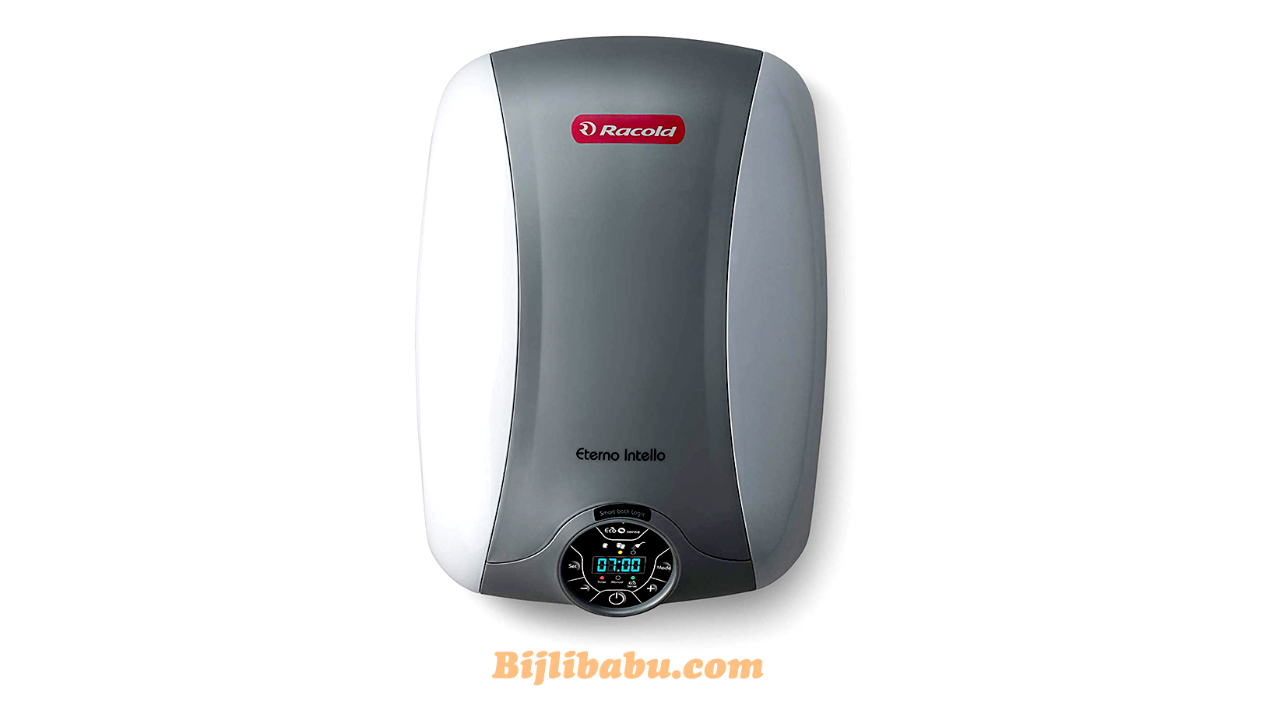 It comes with a super polymer coating that evades limescale deposits in the inner tank. This protective coating technology thus helps in preventing corrosion and providing high performance. The special titanium-coated heating element also protects the heater and increases its life span. Smartguard feature of the heater keeps the water pressure in check while sustaining high pressure.
Coming from a notable brand, Racold Eterno 2 claims to be a smart/intelligent water bath logic. With the eye-catchy design, the 15-litre sleek water heater is highly energy efficient. Racold claims that this smart water heater saves up to 40% of energy while providing you with the perfect hot water of your desired temperature.
Explaining their claim of energy conservation, Racold reveals that the smart mix of both hot and cold water by a special deflector ensures less frequent restart and a longer period of hot water. It is definitely a 5-star BEE rated product. The tank is also lined with polyurethane foam for better insulation. However, this water heater is available only as vertical mounts.
Advantages:
Energy efficient: BEE 5 star
Impressive warranty period
High performance
Heats up within 7-8 minutes
Thermostat and auto cut off
Retains heat for a longer period
Disadvantages:
Customer service needs improvement
The inner tank consists of a special type heating element- ISI marked nickel-coated copper to provide protection against salt buildup. Additionally, a patented nano polymer coating is applied to the tank to prevent corrosion.
Crompton geysers are known for their design and efficiency. The Solarium is nothing different. The stylish design of the water heater is appealing yet it is compact enough to carry a 15-litre storage tank. The unique design definitely makes it an eye-catcher.
The solarium withstands the 8 bar water pressure and is thus best suited for multistoried buildings. The inner tank is coated with anti-corrosive material using a single weld line that helps in reducing water leakages by 66%. The tank is covered with the best rust-free ABS body for longer shelf life. The heater also comes with an advanced 3-tier temperature sensing feature that includes a capillary thermostat, thermal cut off and fusible plug to ensure a safe working environment.
Advantages:
Energy efficient: BEE 5 star
Advanced safety systems
Easy installation
Auto cut off
Retains heat for 6 hours
Quick heating
Disadvantages:
The display lights need improvement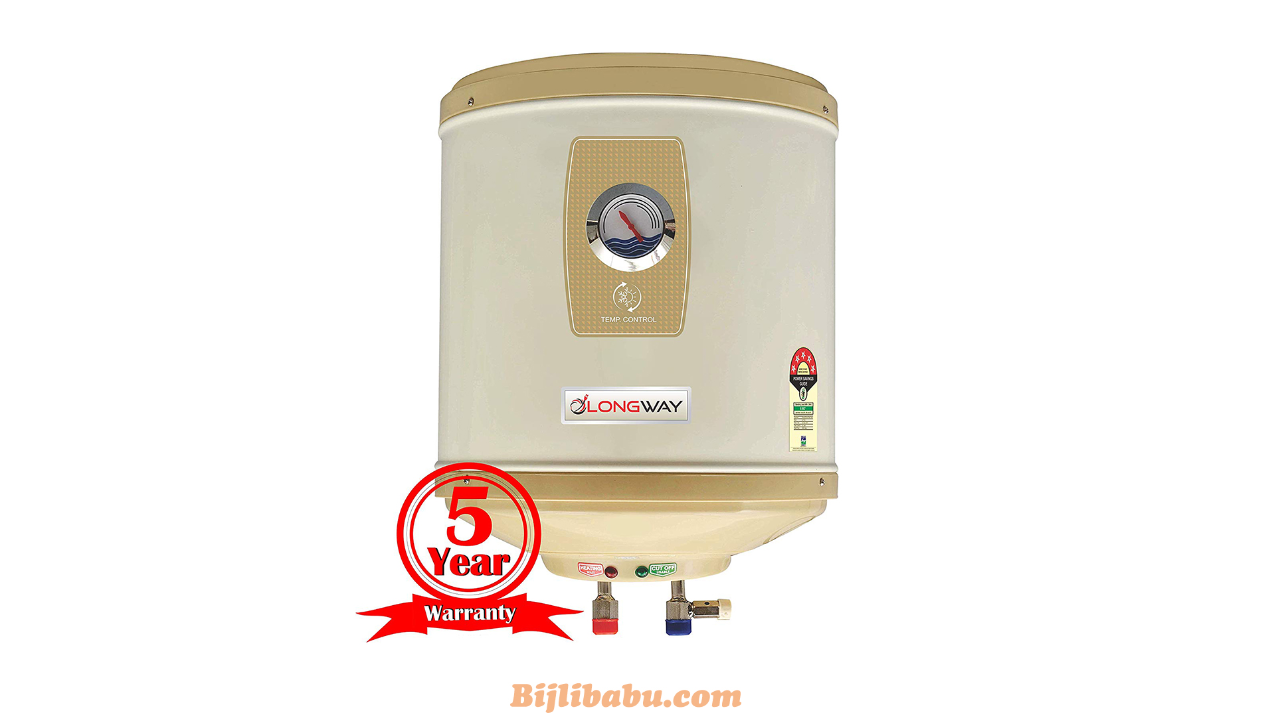 The Longway water heater is known for its quick response to the heat. It is thus best suited for those who are always at a race against time. This amazing 5 star BEE rated geyser has a 25-litre storage tank capacity. It has an anti-vacuum system, an automatic thermostat that cuts off the power when not required. The extra heavy heating element is coated with magnesium for longer durability of the product.
Advantages:
Good warranty period
AVS technology
Good heating response
Disadvantages:
Reference: homezene.com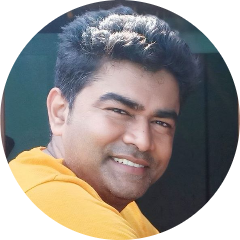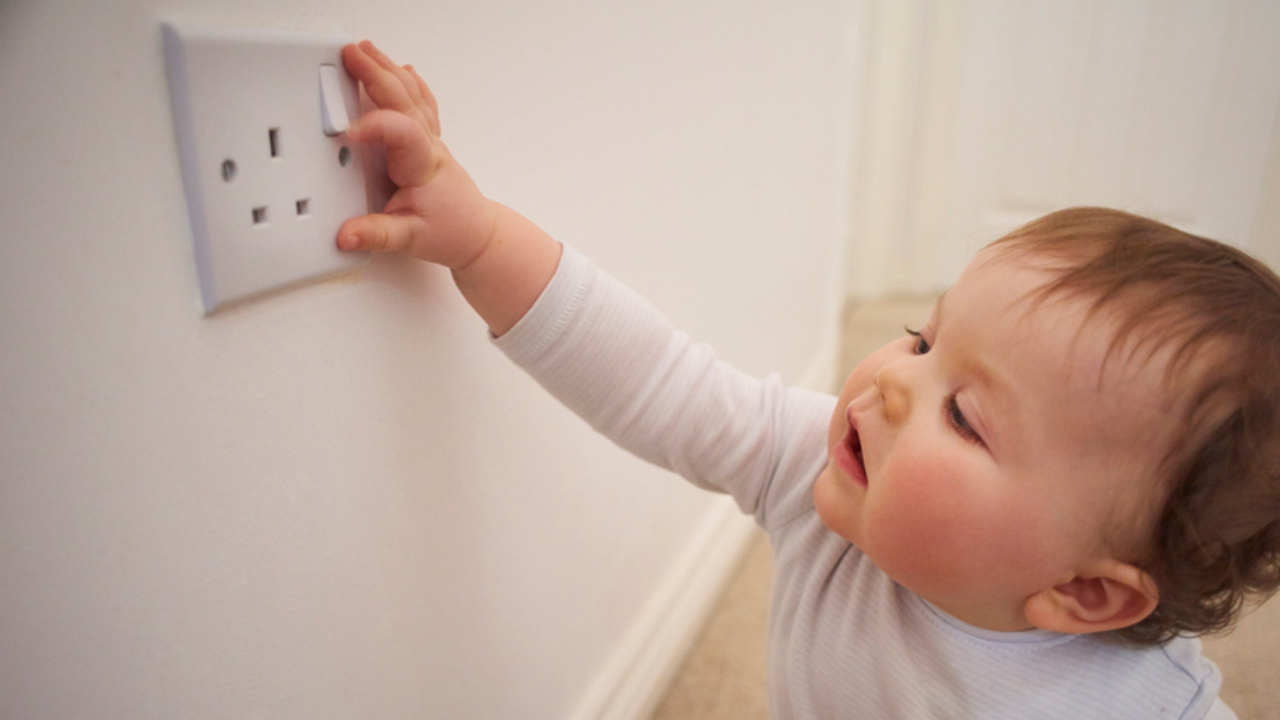 Make your home shockproof for kids
We are all surrounded by electrical products in our day to day lives. it could be phone chargers, extension cables or power outlets All this...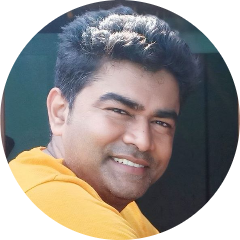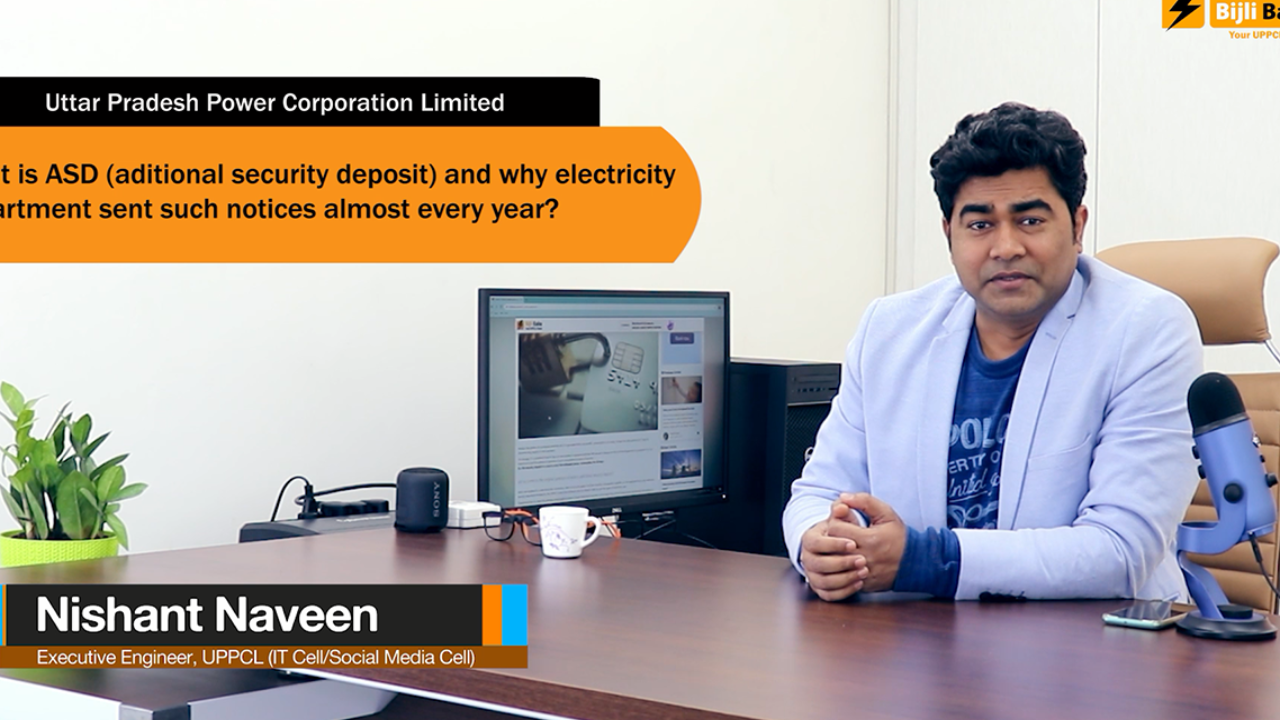 What is additional security deposit?
Analyze the pattern of a postpaid electricity bill. It is generated after one month's consumption. it is having 14 days due date period and ...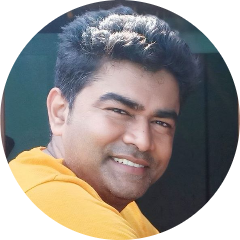 Leave a Comment

You are not logged in |
Login